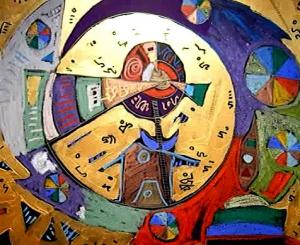 There are all kinds of studios, all shapes and sizes, some are costly some are inexpensive,
but one that anyone can have access to is outdoors, or cafes, or libraries. There are many places
where you can muse, and musing is one of the larger parts of creating art.

Yesterday we were at the lake, with our chairs, our picnic, and our books. We read to each other and mused throughout the day. It was a way to stay cooled off and a way to keep working at the same time.

Today we're at the library, because it is raining like crazy outside. Perfect, another great day to muse. All of these days add up to being able to come to the work and be ready to jump right in. Jumping right in is what creating does, it drops you into the middle of the world of musing and from there you swim.

As we enter more posts to our blog here, there will be images that are not in our gallery. Just email us if you are interested in an image from the blog and we can be sure to make it available.

Hope you are finding your muse today.